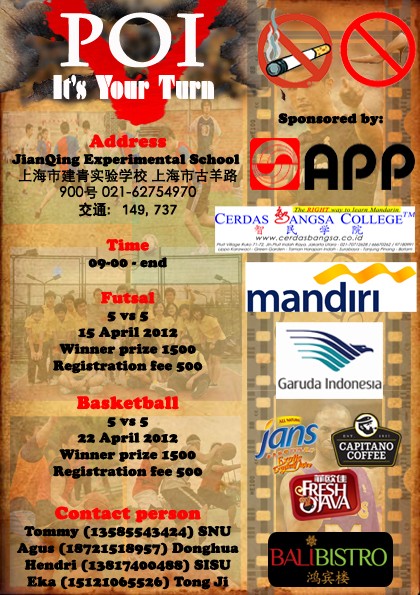 Dear All,
Kami dari Mangala Shanghai akan mengadakan Pesta Olahraga Indonesia yang Kelima.
Kami mengundang anda semua untuk hadir dalam acara ini dan ber ramah tamah dengan warga Indonesia lainnya di Shanghai dan kota sekitarnya.
Acara ini akan diadakan di daerah Gubei Shanghai.
Jianqing Experimental School GuYang Road No.900 (Near Gubei Road)
Sunday, 15 April 2012 9.00am
Futsal
Sunday, 22 April 2012 9.00am
Basketball
Akan ada 6 tim yang bertanding setiap cabang dari berbagai sekolah di Shanghai, Nanjing, Suzhou dan kota sekitarnya.
Jangan lewatkan DOORPRIZE
Tiket Garuda PP Shanghai- Jakarta-Shanghai
yang akan diundi pada akhir acara dari kupon yang akan dibagikan setiap harinya. (jadi setiap orang bisa mendapatkan 2 tiket doorprize maximal)
AKan ada juga banyak hadiah-hadiah, goodiebag dan merchandise menarik dari para Sponsor yang merupakan perusahaan Indonesia yang berbasis di China.
Acara ini didukung oleh :
APP(Asian Pulp and Paper)/Sinarmas
tissue product (清风Breeze,Virjoy ,etc)and paper product (Yalong Paper Kunshan)
Garuda Indonesia (Huamin Empire Plaza No.726 Yan'an Road(West), (86-21) 5239 1000)
Cerdas Bangsa College
www.cerdasbangsa.co.id
Bank Mandiri (Shanghai Office)
Capitano Kopi
Jans Juice
Bali Bistro Indonesian Cuisine (Shanghai, Wanhangdu road no 75; 万航渡路75号 )
Jadi, datanglah ke acara kami dan ajak teman teman lainnya!
Note: Early notice to all participant and audience for not smoking in the school area and For ladies, please avoid wearing high heels.
POI V by Mangala Shanghai
It's Your Turn!!!