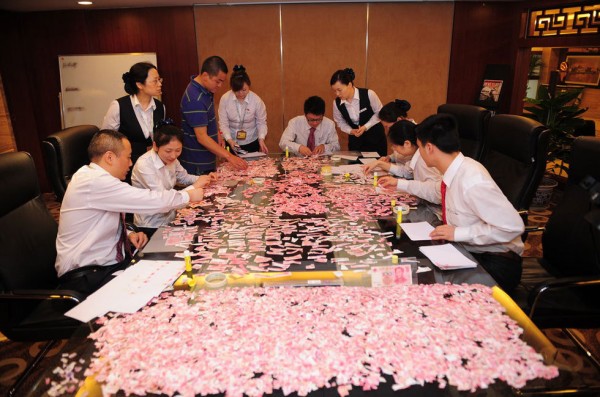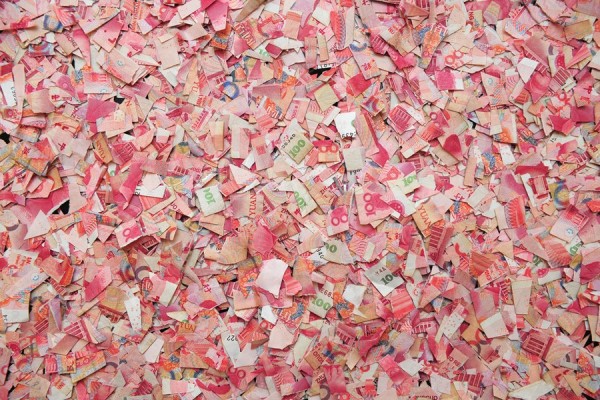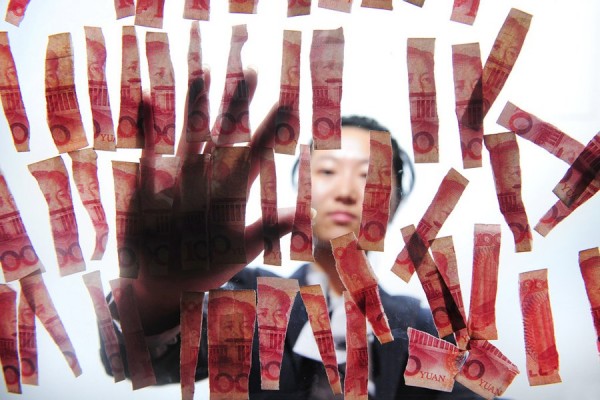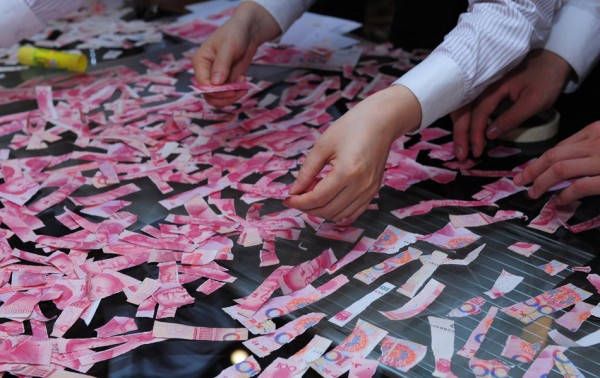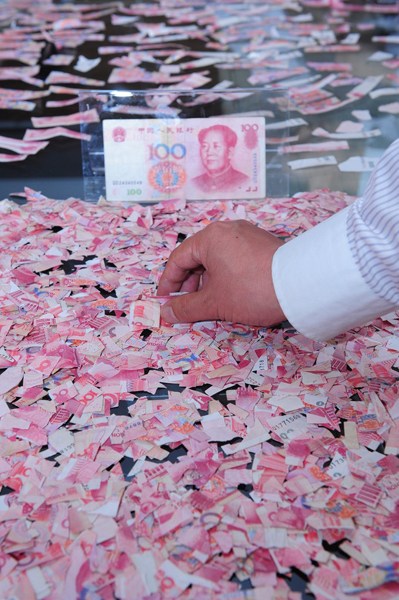 On the morning of May 3rd, Sichuan Chengdu city resident Lin Zhaoqiang carried 50,000 yuan in torn 100 yuan bills from Chengdu Jintang to the Bank of China Sichuan Branch, looking for help. May 1st, Lin Zhaoqiang's wife all of a sudden had a fit and tore the 50,000 yuan life-saving money into pieces. Facing thousands of pieces of cash, 12 bank employees sorted and spliced for 6 hours only to piece together a single 100 yuan bill. The remaining money, if unable to be pieced back together, face the unfortunate possibility of being declared null and invalid. Because this money is for treating his wife's mental illness, Lin Zhaoqiang said he won't give up.
[Above] May 3rd after 9 o'clock in the morning, Lin Zhaoqiang was waiting at the entrance of the bank with a thin and pallid expression. The plastic bag in his hand was wide open, and the pieces of bright red cash could be seen from afar. May 3rd, Chengdu, half the day had passed, and employees of the Bank of China Sichuan Branch had yet to piece back together even one bill.
Taken into the conference room by employees, Lin Zhaoqiang had poured the pieces of cash out onto the desk, stunning all the bank employees: 50,000 yuan of cash in small pieces, all in a big pile on the desk, that when spread out covered the entire 10-square-meter meeting table, a mass of red.
"Considering this sum of money is for medical treatment, we've made an exception and diverted 12 of our best employees to help him to piece them together," Zhang Ping said. The suggestions of "weighing" and "electronic scanning" by readers and netizens cannot be done, so the money can only be put back together manually.
From 9 in the morning to 3 in the afternoon, 12 employees spent 6 hours, and only managed to piece one bill back together that can be exchanged.
May 3rd, Chengdu, the Bank of China Sichuan Branch employees are splicing the damaged and mutilated cash. Lin Zhanoqiang sat on the side with a worried expression. At 4 in the afternoon, Lin Zhaoqiang carefully put the pieces of money into the plastic bag again, and left the bank.
Kasian juga org bank-nya, stress bo, kayak maen puzzle, bisa eneg liat 100 kuai-an abis ini~
via Chinasmack
[img]


Last edited by asri on Sat 19 May 2012, 4:17 pm; edited 1 time in total